Browsing articles from "April, 2016"
Here is something a little fun for you…..impromptu and short too!
Let's meet for a small Cars & Coffee event at Antonio's House of Coffee on Saturday morning starting just before 10am.  Anyone is welcome!
Where?    Antonio's House of Coffee, 5645 SW Scholls Ferry Rd, Portland
When?    Saturday, April 30 at 10am
Cost?    Your gas to get there and coffee if you choose.
The owner of the coffee shop used to be a Mustang owner.  He sold his loved car in order to start his business!  Let's show him a little car love!
No awards, no judging, no entry fee.  Just a fun time to wander around and enjoy the cars that come.  Talk with other car owners for fun too!
Please join us on Saturday May 14th at 8:30am at the French Prairie rest area outside of Wilsonville where we will join up and leave by 8:45AM to go on to Brooks to visit the Peony Gardens, then onto the Schreiner's Iris Gardens.  Then we will stop for lunch at The Chalet Inn. After that we will cross the street to visit the Brooks Auto Museum as well as getting to see the newly finished John Deere and Caterpillar display.  That will be a full day.  Anyone is welcome to join us and hope for a non rainy day!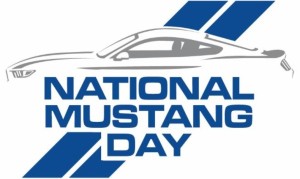 It is the 52nd anniversary of the Ford Mustang and we will be celebrating it on April 17th with a drive to Camp 18 then on to the coast.
Do you want to come?  Well, here are the details.  Remember to RSVP to Jill (her info is at the bottom)
Date:   Sunday, April 17th, 2016
Time:  8:30 – 8:45am
Cost:  Your gas, your breakfast at Camp 18 and your time to have fun!Where:  Meet up at McMenamins Imbrie Hall, 4045 NW Cornelius Pass Rd, Hillsboro.  Get off the South bound Cornelius Pass exit continue to the second signal (Chevron station) turn right then in about 500 feet on the left you'll see a driveway into the Imbre Hall parking  lot.
RSVP:  to Jill Jones by the 15th 503-351-7947,  so she can reserve enough tables at Camp 18.
Schedule:  8:30 – meet up…..leave at 9am…..arrive at Camp 18 close to 10am…..on to the coast after breakfast/brunch.