Browsing articles from "August, 2016"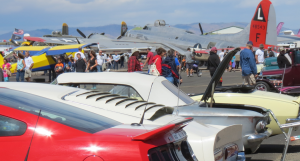 Airshow of the Cascades in Madras!!  Our event for the month of August will give you time to drive your car and to enjoy an airshow!  We hope that you come with us.  This event is open to club member AND anyone else who would like to come along.  So….here are the details!!
We will depart at  7am on August 27 from the Fred Meyer parking lot in Sandy.  Ray suggests that you be there about 15 minutes early to check in with him and use the restroom if you wish.  We MUST be at the airp
IMPORTANT!! Registration for the car show ends August 19th or when the space is sold out.  Early registration will give us better odds of getting in!  Purchase your ticket at www.cascadeairshow.com and follow links to ticket area.  THEN, Call Ray Clack to let him know you have your ticket.  503-656-3891.  If you arrive the day we are leaving without a ticket, you may not be able to enter the airshow with us as a club to show your car!!!ort no later than 8:45am to enter.
Cost:  $20 for the Airshow plus your food and gas.  This includes entry for your car, two adults, a covered area with complimentary soft drinks,  water, snacks and covered seating and FREE admission to the Erickson Aircraft Collection.