Mustang 50th Anniversary Parade
If you own a MUSTANG you won't want to miss this opportunity to be a Part of History!   Help us celebrate the 50th Anniversary of the Ford Mustang with a once in a lifetime event!
On April 12, 2014, we will attempt to break TWO World Records with the
largest parade of Mustangs and Fords ever!
You have TWO ways to register.
* Online – HERE
*  OR via mail:   Print version of Parade Registration HERE
Questions about your order or registration?  You can contact us at:      store at mhmf dot com       (delete the spaces and replace the 'at' with @ and the 'dot' with a period.)  OR you can call our message phone at (971) 266-FORD (3673)  This phone is monitored a minimum of once a week.
The  Mustang 50th Anniversary Parade (MAP50)
Be a part of this historical happening and make our Northwest event one of the best!!!
Event location:  Woodburn Drag Strip, Woodburn, Oregon
Do you or your business want to help with our historic event?
*  Be a sponsor!  Sponsor Letter HERE
*  Be a vendor! Vendor Info Here
*  Be an advertiser in our keepsake event program!  Ad Info Here
HEY!!!   WE ARE ON FACEBOOK – PLEASE 'LIKE' AND 'SHARE' OUR PAGE!!!  Mustang 50th Anniversary Parade
Some of you have asked how you can help spread the word.  Here is a flyer that you can print off to give to local businesses! BUSINESS FLYER HERE
OR you can print off this "Save the Date" card that is a quarter page info card for the parade.  SMALL EVENT CARD
FAQ's:
Q. Is this event the same time as the MCA events?
A. This event is in addition to the Mustang Club of America events and happens the weekend before.  We are a Ford recognized event for the Pacific NW.
Q. Do I have time to get from your event to the one in Las Vegas?
A. The Las Vegas event happens 4 days later than ours giving you enough time to drive leisurely from our event to the MCA event.  We are working on getting a group to drive down together visiting several unique car places on the way.
Q. What years of cars are allowed to be in the anniversary parade?
A. All years of Ford Mustangs and other Ford models such as Fairlane, LTD, Galaxie, Thunderbird, Econolines, Rancheros, Trucks, etc.  Sorry Lincoln models will not qualify.
Q. What does my parade registration include?
A. Registration will include parade participation, special parade plaque/pin, event T-shirt, goodie bag, and more.
Q. Will there be a discount if I have more than one car?
A. Yes. This information will be on the MAP50 registration form.
Q. Will there be anything to do at the event?
A. Event location will include special guests, lots of vendors, music, food and raffle.
Q. Who is benefiting from this event?
A. Net Profits from event will benefit Oregon Impact, a 501c3 organization. They provide crash reenactments at schools to discourage drunk driving and driving while texting. They receive O money from the state, county or city. As a vendor the day of the event you can expect interactive activities that even the kids can enjoy.
Q. How many Mustangs will break the record?
A. 621 Mustangs will break the record.
Q. How much are sponsorships?
A. Sponsorships are available starting at $100.  Download our forms above.
Q. What do I get if I'm a Major Sponsor?
A. Major sponsors at the $5,000 level will get their logo on event T-shirts, banners, posters and many more perks!  See that info on the Sponsor Sheet above.
Q. Who is organizing this event?
A. Mt. Hood Mustangs and Ford club with the support of other clubs in the area.
Q. How late can I register?
A. Registrations before March 1, 2014 to receive the free event shirt.  Registration after March 1 will not receive a free shirt.  Register NOW!
Q. Can I trailer my car to the event?
A. Trailered cars are welcome to participate in the event. However, there will NOT be room to park your trailer at the event site.
Q. Can my car club be parked together and parade together?
A. Cars will be parked in the order they arrive.  You will NOT be able to save spots as you will be parked parade style (nose to end)  to facilitate the large number of cars that leave for the parade.  Mustangs will be in front with all other Ford models following.  If you arrive WITH your friends,  you will more than likely be parked with them.
Q. How late can I enter?
A   You can register right up to the day of the parade HOWEVER, March 1, 2014 is the latest date to register and get a free shirt.  Registrations received after March 1, 2014 will receive NO free shirt.
Q. Where will the parade drive?
A. We will be parading around 9.5 miles of country roads around Woodburn drag Strip and will try to keep our speed between 10 – 20 miles per hour.  We will NOT be in town.  Hopefully this will eliminate the stop and go of a normal parade which burns up clutches! It takes over 5 miles to accommodate 700 cars so parading in town is just not feasible. We are parading for the world record of # of cars, not the number of spectators!
Q. What happens to the parade if it rains?
A. This is a rain or shine event. The parade will happen even if it is raining so please come so we can SHATTER the world record.
Q. What happens if your event is canceled?
A.  Any decision to cancel this event will happen before the end of 2013. If it is canceled, your registration fees, shirt fee, sponsor donations, vendor fees,  and ad fees will be returned 100% (not including PP fees)
Recent Posts
Blogroll
Sponsors for 2013 Albertsons Cruise-In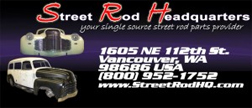 Gallery
Topics